Japanese Curry With Rice.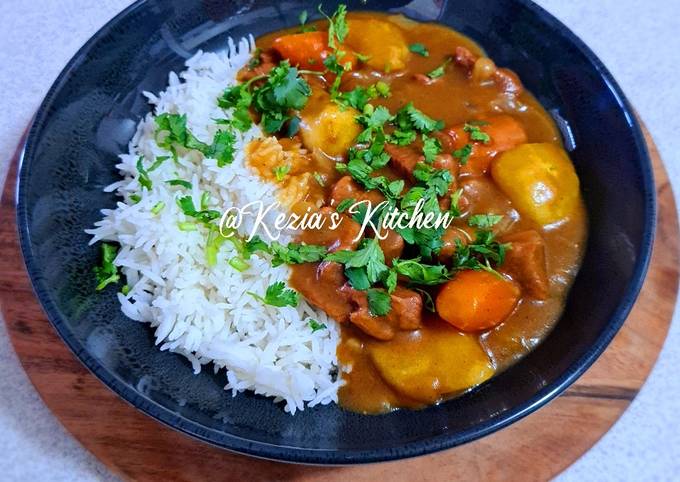 You can have Japanese Curry With Rice using 7 ingredients and 4 steps. Here is how you achieve that.
Ingredients of Japanese Curry With Rice
Prepare 2 tablespoons of cooking oil (I use olive oil).
You need 500 grams of diced lamb.
Prepare 1 of large onion, thinly sliced.
It's 4 blocks of S & B Golden Curry Sauce (small size).
Prepare 2 of carrots, cut according to taste.
Prepare 2 of large potatoes, cut into cubes.
It's of Steam Basmati rice for serve (can use other rice or noodles).
Japanese Curry With Rice instructions
Heat the oil in a skillet or frying pan over medium heat.  Saute the onions until they are half wilted, add the meat and saute for about 5 minutes then add the potatoes and carrots, stir until evenly distributed..
Add about 600ml of liquid chicken stock and bring to a boil.  Reduce heat, cover and simmer until all ingredients are tender, about 15 minutes..
Finally, turn off the heat, break the S & B GOLDEN into pieces and put them in the pan.  Stir until the curry mixture is completely melted.  Simmer for about 5 minutes and stir constantly.  Until completely blended..
Served with hot basmati rice and sprinkled with coriander leaves, Japanese Curry is ready to eat for today's dinner..
こんにちは友人、私の名前は香織です、私は料理が大好きです