Japanese veggie stir-fry.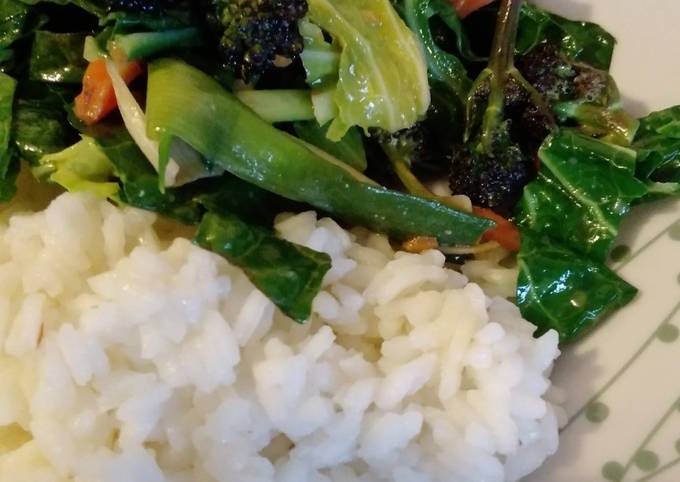 You can have Japanese veggie stir-fry using 18 ingredients and 5 steps. Here is how you cook it.
Ingredients of Japanese veggie stir-fry
Prepare of Rice.
You need 1 tbsp of sugar.
It's of large pinch salt.
It's 1 cup of short-grain rice (risotto rice for example).
Prepare 1 tbsp of sesame oil.
You need 1 tbsp of sesame seeds if you have some (I didn't today!).
You need of Sauce.
Prepare 2 tbsp of miso paste.
It's 2 tbsp of rice wine vinegar.
You need 1 tbsp of brown sugar.
It's 2 tsp of grated ginger.
You need 1/4 tsp of chilli flakes.
You need of Stir fry.
You need 1 tbsp of sunflower oil.
It's of small head of purple sprouting broccoli (stems separated).
Prepare 1 head of spring greens (cleaned, stems removed, chopped).
Prepare 1 of large carrot (grated or julienned).
Prepare 4 of spring onions (sliced lengthways).
Japanese veggie stir-fry instructions
Add the sugar and salt to a pan of water, bring to the boil and add the rice. Leave this to cook while you make the rest of the meal..
Combine all the sauce ingredients in a bowl and mix thoroughly. Set aside..
I used this next bit of rice-cooking time to prep my vegetables, and placed them all together ready in my colander. Once the veg is prepared heat the sunflower oil in a wok (or large frying pan). When hot, add the veg, stirring continuously and adding little bits of water as needed to keep the cooking vegetables moist and steamy. Once the leaves are wilted, add the sauce and continue stirring for a couple more minutes. Remove from the heat..
If you've timed it right, the rice will be cooked now. Drain well, return the rice to the still-hot pan, and stir in the sesame oil for maybe 30 seconds or so..
Add the rice to your plates and then pile on the veg! We had a little dish of miso leeks (recipe by Japanese Ideas on Cookpad) on the side. Delicious!.
こんにちは友人、私の名前は香織です、私は料理が大好きです